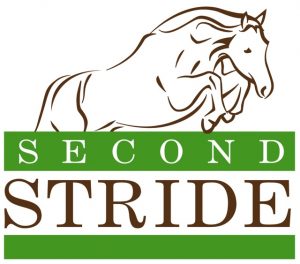 When Kim Smith started Second Stride in 2005, the non-profit dedicated to providing professional rehabilitation, retraining, and placement for retired Thoroughbred racehorses in qualified homes came about because of a recognizable pattern.
"I was always a matchmaker, a liaison between my friends and work in the racing community and my friends and work in the show horse world," Smith said. "In our area, I was one of the people who would connect the dots there. It sort of started informally, just trying to help people place horses."
Three years later when the recession hit, demand for the organization's services became much more pressing.
"When the market crashed in 2008, people were stuck with horses and unable to sell them, and that's when we really saw a need for things to expand," Smith recalled.
That was the year Second Stride received their first grant from Thoroughbred Charities of America, which became one of the non-profit's core sources of support.
"Here we are 10 years later, I think our operating budget then was probably $30,000 at most – I know it wasn't anywhere near our operating budget now, which is $340,000," Smith said. "We grew from grassroots, we don't have many major donors other than TCA and the Thoroughbred Aftercare Alliance.
"I love that the TCA's logo is a heart, because that's what we're doing, just connecting hearts. Second stride has grown through TCA and because of TCA we're still here, trying to figure out needs and take care of them."
Second Stride placed 116 horses in 2018. While the program starts retraining retired racehorses to help find the niche they could serve for the general riding public, they also break horses that have not been handled much, including yearlings or retired broodmares that were never broke to ride. The program takes in uncastrated colts as well, facilitating the castrations and acclimating those horses to general herd life after they become geldings.
"TCA and TAA helped bridge the gap for all these horses, and helped us develop our program," Smith said. "The TCA money is so fabulous because it is unrestricted. It usually goes to feed the horses or train the horses, toward the horse needs. It's really important for us to have TCA money so we can put that straight toward the horses."
Second Stride's herd currently numbers 16, and normally ranges up to 20.
"We normally carry about 20, that's our comfort zone to keep our waiting list in this community somewhat manageable," Smith said. "Our program is very lean. I'm not a paid executive director, and our board is all volunteer. We have just some minor contract labor part-time – three ladies that pretty much help us run the whole program – and one part-time contracted rider/trainer. We're working to change that, but it's scary setting up staff. It's hard to find the right people and to have a committed source for the funding so you know you're not going to have to hire them this year and fire them next year."
While the Second Stride herd is currently stabled at Moserwood Farms in Prospect and Pleasureville, Ky., thanks to a generous donation from Dinwiddie and Irene Lampton, the organization also owns 50 acres in a nature conservatory in Louisville, just 12 minutes away from Churchill Downs.
"We're excited," Smith said. "It's blank land, so from installing water and electric to building barns, we've got the plans and we've got it approved. We just have to start our capital campaign and budgeting. We don't have an immediate launch date yet, we need to focus on board development first, but it's great to know that the horses of Churchill Downs and this area of Kentucky will have a place to call home."
Smith envisions a covered arena and a rehab barn as part of the new facility. She also wants to expand the organization's community outreach and education efforts.
"We're looking at a step-by-step development process for the new land, and step one would be a rehab barn with workers' quarters so someone is there 24-7 for post-surgery care, because we're seeing more surgery cases. But our long-term vision is to get a covered indoor built as well, so we can host shows and fundraisers and do educational things with the community there."
Thanks to the development of the Thoroughbred Incentive Program (T.I.P.) and the Retired Racehorse Project, Smith said she has seen a shift in the aftercare arena.
"It's been awesome in the sense that they're making a market for the off-track Thoroughbred, and that's exactly what they set out to do," she said. "That's fabulous. Now the trainers can stop before that one last race and sell the horse. The horses are going from being disposable to bringing an average of $2500 off the track if the trainer stops before that one last race.
"Now, when trainers like Al Stall, Paul McGee, Dale Romans, or Mike Maker send us sound horses that are done running and we'll transition them, it's like a donation because we can usually ask a fee for those horses that's higher than it used to be. So that paves the way for some other horses that come along. Then, when they have an injured one they ask us to take, that's like money in the bank. They know we're sustained through their other horses to be able to take an injured one."
Second Stride will host its main fundraiser April 29 at Molly Malone's in the Highlands. For more information on the event sponsored by Skychai Racing, visit Facebook.com/SecondStride.