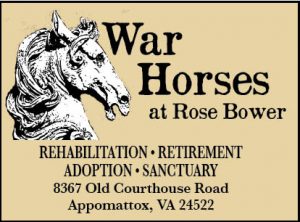 Barbara Luna's lifelong love of horses has motivated her career path – from working as an exercise rider, racehorse trainer, and racetrack publicist to running a retirement facility for retired racehorses. Luna's passion for helping horses who had nowhere else to go was the driving force behind her decision to create the non-profit aftercare program War Horses at Rose Bower.
"I was a horse lover as a little girl and had my own riding horse when I was a teenager that, by coincidence, was a racehorse who had been run through an auction," Luna recalled. "I didn't know much about his history besides where he raced."
War Horses at Rose Bower is located in Appomattox Virginia, close to the Appomattox Court House, where General Lee surrendered to General Grant at the end of the American Civil War. The program is focused on helping horses with long racetrack careers find a safe landing when their time on the track is done.
"We don't adopt out (many) horses a year, and we have about 13 horses on the property right now," said Luna. "Our organization is named for a reason. Some of these horses have a lot of starts and have raced until they are 14."
"About half of my horses are older and are staying here. Colonel Bart is our oldest horse here at 27 years old, he arrived prior to the start of the organization. Colonel Bart is a retired turf horse who raced until he was 10. I met him when I was working for Monmouth Park. He always broke slow and stayed in the back until he rounded the turn into the stretch he would just open up. He ended up with a lot of photo finishes."
War Horses at Rose Bower has a veteran's program in the works, allowing the horses that do not get adopted out to have a job.
"When I started the program the first two board members were retired military veterans, Ron and Gloria Krauklis. They're very good with the horses and get so much out of being around them," Luna said. "Five of my volunteers are all retired military, from Vietnam to Afghanistan. One volunteer came back from Afghanistan with a traumatic brain injury and PTSD. He fell in love with a mare here. He comes out sometimes with his family and takes care of her and says it's one of the best kinds of therapy he's ever had."
The horses also enjoy visits from the members of a local 4-H club.
"We do have some teenagers in a 4-H group that come out, one of them fell in love with a horse here that is typically not very nice and I was hesitant to let her work with him at first, he turned out to be absolutely perfect with her," Luna said. "These horses enjoy having jobs and being around people, from the very day they were born they have had a person taking care of them. They enjoy the grooming, attention and they also enjoy mental challenges."
War Horses at Rose Bower takes in horses from different programs such as Beyond the Wire in Maryland and Take the Lead in New York.
"I get a lot of my horses from the New York program, which is where two of my favorites came from, Writingonthewall and Old Upstart," Luna said. "Writingonthewall is a big dark bay with a blaze. He's like a big human except he's a horse. He made over $700,000 on the track. The woman that trained him wanted him to be a pony horse but he just wasn't having it. Old Upstart has some feet issues we're working on. We have a really good blacksmith who put on some glue-on shoes. I called his connections and they helped with the cost on top of the original donation."
Thoroughbred Charities of America has provided grants to War Horses at Rose Bower for the last three years. Grants like these have helped improve the industry's public perception and provided more horses more places to go.
"I really like the changes in the last 10 years. The industry is doing so much better, and it's only going to keep getting bigger and better," said Luna.
Written by Anna Lowes