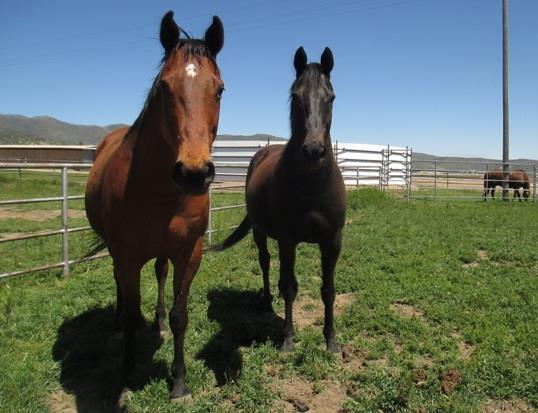 The United Pegasus Foundation (UPF) was created by Helen Meredith in 1994 as a home for retired racehorses in California. UPF, originally based in Meredith's half-acre backyard, now has two major facilities, both over twenty acres. Between the two facilities, UPF is home to 76 horses, most of which are Thoroughbreds. UPF is unique in California because of its significant acreage. Meredith says, "Many rescues in California can't provide retirement [sanctuary] because they don't have the land."
At the start of her rescue effort, Meredith acquired horses from feedlots and most of those horses brought to UPF in the mid-nineties were young. Today many of them still live at UPF; more than half of the horses at the foundation are over twenty years old.
Today, UPF works with racetracks in southern California, northern Arizona, and other nearby areas upon request. When a new horse arrives from the track, Meredith says, "we're hoping that we get good information from the trainers about their injuries. But we take anything, sight unseen." Once the horse reaches UPF, it has a permanent home unless a suitable adoptive home can be found.
On average, UPF rehomes three or four horses each year. Meredith wishes more adoptive homes could be found but "it's getting harder to adopt out Thoroughbreds because boarding stables are disappearing and youngsters are more into computers than horses. Finding experienced people who want to work with adoptable Thoroughbreds is hard."
According to Meredith, UPF's biggest accomplishment has been staying in the business of helping the horses she loves. "Our success is surviving. We're in our twenty-first year. To bring in as many horses as we have over the years and survive doing what we do on donations and grants is an accomplishment in itself."
Despite set-backs over the years, Meredith has never lost her drive. She says, "It's [working with Thoroughbreds] been my passion since I was 15. I've worked with racehorses my whole life. I spent seventeen years in France exercising some of the best horses around, and my husband and I trained a Breeders' Cup winner in 1993."
TCA's grant supports the care for the horses at UPF as well as other operational expenses. Meredith specifies, "It helps us buy hay and support our staff. California is known for its high cost of living." Despite their far-reaching impact, UPF only has six employees, three full-time and three part-time.
Meredith recognizes that Thoroughbred aftercare is an essential part of the racing industry: "Sixty percent of the Thoroughbreds that are racing are done by the age of four. There are lots of foals each year, but only a small percent find room in Thoroughbred sanctuaries." She hopes to see an increasing number of aftercare organizations like UPF.
"Thoroughbreds are such noble creatures, and when they are on the track they give their all. They have so much heart. No matter how much money they've won, they need a place to go."