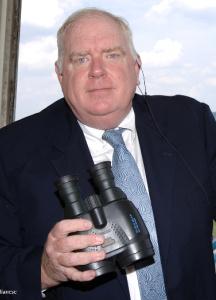 LEXINGTON, Ky. – Thoroughbred Charities of America (TCA) announced today that Tom Durkin will host its 25th Annual Select Stallion Season Auction to be held Saturday, January 10 at the Keeneland Entertainment Center in Lexington, Ky.
"We are thrilled that Tom Durkin will be hosting our auction and anniversary celebration," said Erin Crady, executive director of TCA. "Tom is engaging, witty, eloquent and a born story-teller and we are really excited to kick off the 25th year of TCA with him."
Durkin recently retired from a 43-year career as racetrack announcer. He began his career at many small tracks before joining the staff of Hialeah Race Course in 1981. Durkin was the initial race-caller for the Breeders' Cup, a job he held from 1984-2005, and was the voice of the Triple Crown for nine years. For the past 24 years, Durkin has been the voice of the New York Racing Association's racetracks.
The Select Stallion Season Auction is the culmination of a week-long auction that will offer nearly 200 stallion seasons and numerous non-season items. Online bidding will open at 9 a.m. on January 5 and continue through 5 p.m. EST on Friday, January 9. Telephone bids will be accepted January 9, 9 a.m.-5 p.m. EST. Interested bidders may register to bid by visiting www.tca.org.
Approximately 10-15 seasons will be sold in the live Select Season Auction on Saturday, January 10. Bidders or their authorized agents may bid on the select seasons by attending the live auction in-person or they may bid on the select seasons during the telephone phase with the highest bidders earning the right to bid by phone during the live auction. In addition to the seasons, the live auction will feature non-season lots such as a Triple Crown ticket package, a John Deere Gator, racing memorabilia trips, exciting experiences and much more. A silent auction will also be offered. All non-season items will also be available for bidding during the online auction with absentee bidding available at the live auction event.
TCA Stallion Season Auction sponsors include Brushwood Stable, Rosenberg Thoroughbred Consulting, Lael Stable, Hagyard Equine Medical Institute, PBI Bank, Candyland Farm, John Deere, Bourbon Lane Stable, L.V. Harkness, Starquine.com, Fasig-Tipton, Keeneland, Thoroughbred Daily News and Blood-Horse Publications.
For further information regarding the 25th annual TCA Stallion Season Auction including tickets, season donations, sponsorships and advertising please visit www.tca.org or call (859) 276-4989.
TCA was formed in 1990 to raise and distribute funds for charities in the Thoroughbred industry which provide a better life for Thoroughbreds both during and after their racing careers by supporting retirement, rescue, research and by helping the people who work with them. In 2014, TCA granted over $512,000 to more than 74 charities working within Thoroughbred rescue, retirement and adoption, backstretch and farm worker services, research and therapeutic riding. During the last 24 years, TCA has distributed over $20 million in grants to more than 200 Thoroughbred-related organizations. TCA is the charitable arm of the Thoroughbred Owners and Breeders Association (TOBA).