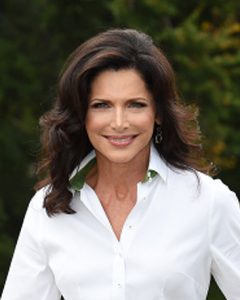 Sheila Rosenblum began her exciting journey into horse racing in 2009. Owning and managing nearly 45 Thoroughbreds through her Lady Sheila Stable, its sister syndicates, and other partnerships, Rosenblum's passion and focus has been getting women more involved in the sport.
"Racing is a truly thrilling sport that has provided me with a great deal of personal enjoyment," the Manhattan resident said. "I strongly believe that increasing interest in the sport among women is crucial to the long-term vitality of the industry."
Lady Sheila Stable's horses have gone on to earn over $6.1 million in purses since 2011. Through the all-female syndications Lady Sheila Stable Two and Triumphant Trio, in addition to the original Lady Sheila Stable, Rosenblum has enjoyed tremendous success in the past years with stakes winning horses like Hot City Girl (City Zip), Matt King Coal (Cool Coal Man), and Holiday Disguise (Harlan's Holiday).
The horse that really put Rosenblum on the map, however, is La Verdad (Yes It's True), who she purchased privately along with her yearling half-sister Hot City Girl. La Verdad had very impressive campaigns in both 2014 and 2015, racking up 10 black-type victories during that two-year period, including the GII Distaff H. at Aqueduct, and the GII Gallant Bloom S. and GIII Vagrancy S. at Belmont Park. The bay finished a game second in the 2015 GI Breeders' Cup Filly & Mare Sprint going seven furlongs at Keeneland just one week after winning the Iroquois S. back home at Belmont. In all, La Verdad earned just over $1.5 million, winning 16 of 25 starts, virtually dominating the female sprint division in New York and ultimately winning the 2015 Eclipse Award for champion female sprinter.
Considered the "Star of Lady Sheila Stable," La Verdad is now retired to Edition Farm as a broodmare and has produced two fillies, the first by Medaglia d' Oro and the second by Tapit – whose birth was viewed by thousands of fans worldwide online through The National Museum of Racing and Hall of Fame's Foal Patrol. La Verdad is currently in foal to Curlin and her sister, Hot City Girl is currently in foal to Bernardini with other wonderful broodmares following.  Along with Vivien Molloy of Edition Farm, Sheila is part owner of A Shin Forward, a New York bred turf champion stallion who came back from Japan to stand at Rockridge.  A longtime supporter of the New York breeder's program, Sheila is now privileged to finally be a part of it.
A true lover of horses, Rosenblum is also a fierce advocate for long, happy and comfortable post-racing careers for her Thoroughbreds. The TOBA board member has already donated many of her retired racehorses to New Vocations whose aftercare efforts have ensured that Lady Sheila Stable's horses will enjoy the same love, care and attention beyond the track as they did during their racing careers.
"Sheila makes sure each one of her retired racehorses finds the proper aftercare through New Vocations," said New Vocations founder Anna Ford. "We are extremely excited to have her be a part of the development of New Vocations at Mereworth Farm, which once complete, will be the largest racehorse aftercare facility in the country."
Prior to her horse racing venture, Rosenblum, an alumna of the Royal Ballet School in London and the School of American Ballet in New York, graced the stage in ballet slippers before strutting down runways and posing in studios as a sought-after model for renowned agencies Ford and Wilhelmina. She has two children, Kara and Erik Rosenblum. For over 10 years, Rosenblum has been an advocate for children's rights and served on the board of The March of Dimes for many years. Children and horses are her passions!