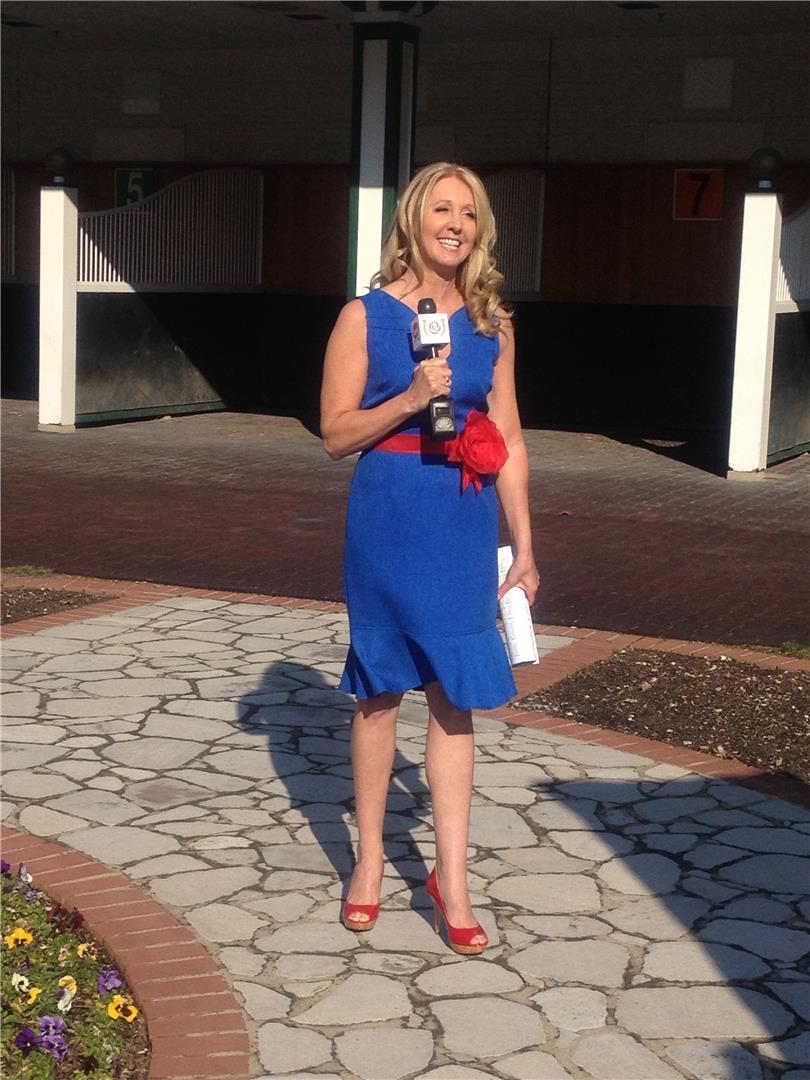 LEXINGTON, Ky. – Thoroughbred Charities of America (TCA) announced today that Jill Byrne, director of programming and broadcasting at Churchill Downs will host the 27th Annual Stallion Season Auction & Celebration to be held Saturday, January 7, 2017 at 6:30 p.m. at the Keeneland Entertainment Center in Lexington, Ky.
Byrne, the daughter of two-time Eclipse Award winning trainer Peter Howe, grew up riding show horses in Virginia before working for her father as an assistant trainer and exercise rider. She then went on to work for Hall of Fame trainer Scotty Schulhofer and Patrick Byrne before beginning her broadcasting career in the racing industry in 1999 as the host, analyst and reporter for TVG prior to joining Churchill Downs in 2008. As the face of Churchill Downs simulcast race analysis, Byrne supervises all broadcast and technical aspects for the Kentucky Derby and all year-round programming.
"We are thrilled that Jill will be hosting our largest annual fundraiser," said Erin Crady, executive director of TCA. "Jill is no stranger to the TCA auction as she covered it as a reporter while she was working at TVG. We are excited to have her involved once again."
The online portion of the Stallion Season Auction begins on Monday, January 2 at 9 a.m. and concludes on Friday, January 6 at 5 p.m. The Celebration, a live auction event on January 7, will feature select seasons including Blame, Dialed In, Into Mischief, Malibu Moon, Medaglia d'Oro, Pioneerof the Nile, and Speightstown. Bidders or their authorized agents may bid on select seasons by attending the live auction in-person or they may bid on the select seasons during the online phase with the highest bidders earning the right to bid by phone during the live auction. In addition to the seasons, non-season lots include a Triple Crown ticket package, John Deere mower, four-day rifle hunt at Whitetail Heaven Outfitters, two-year lease on a 2017 Dodge Ram or Jeep Wrangler, and equine air transportation via H.E. Tex Sutton. All non-season items will also be available for bidding during the online auction with absentee bidding available at the live auction. Tickets are available here and include cocktails, music by Ben Lacy, dinner, and a silent auction.
TCA Stallion Season Auction sponsors include LNJ Foxwoods, Blackwood Stables, Sid & Jenny Craig Foundation, Rosenberg Thoroughbred Consulting, PBI Bank, Candyland Farm, John Deere, Bourbon Lane Stable, Starquine.com, Stoll Keenon Ogden, Flair Equine Nasal Strips, Fasig-Tipton, Keeneland, TDN, TOBA, The Horse Media Group, Blood-Horse, and L.V. Harkness & Co. For further information regarding the 27th annual TCA Stallion Season Auction please visit www.tca.org or call (859) 276-4989.
TCA's mission is to provide a better life for Thoroughbreds, both during and after their racing careers, by supporting qualified repurposing and retirement organizations and by helping the people who care for them. TCA distributes grants to several categories of Thoroughbred-related nonprofits including rehabilitation, retraining, rehoming and retirement organizations; backstretch and farm employee programs; equine-assisted therapy programs; and research organizations. Since its inception in 1990, TCA has granted over $21 million to more than 200 charities. TCA administers the Horses First Fund, initiated by LNJ Foxwoods in June 2016 to assist a horse rescue operation in Mercer County, Kentucky as well as provide emergency aid for horses in need in the future. From 2000-2015, more than 95% of TCA's expenditures were allocated to program services including direct grants. TCA is the charitable arm of the Thoroughbred Owners and Breeders Association (TOBA).